Nitanee Paris is originally from Pennsylvania where one of her earliest musical memories was of an urban neighborhood where at night the songs of an historic African American church, which was adjacent to her backyard, and was once part of the Underground Railroad, would echo against the hymns from a Puerto Rican church just across the street. While she loved the music, society dictated that she could only participate vicariously. "There was so much racism. It impacted the way I feel about the importance of diversity and tolerance and acceptance," she recalls.

Early punk music, political messages, Woody Guthrie and Rage Against the Machine, as well classic country music that her father loved to play on his guitar: Nitanee absorbed a wide influence of diverse sounds and images. Her mother named her after a Native American legend of a strong and powerful leader of the Iroquois Confederacy. Later generations carried on the name, which also recalls a favorite Pennsylvania folktale of "Nitanee", whose forbidden lover still can be heard calling her name from the depths of Penn's Cave. And while her hometown was surrounded by the beautiful countryside that she loved, she was drawn to the artistic energy and exciting pace of Los Angeles. So Nitanee came west to California.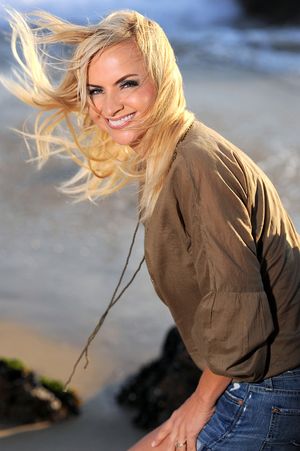 It was a roundabout route to songwriting, but Nitanee, who always loved to write, discovered an inner voice and a consciousness; a craft formulated by a need to communicate and a gift for doing so in song. She earned a degree in socio-cultural Anthropology with honors (magna cum laude) at the University of California Los Angeles. Later, she studied songwriting at UCLA Extension where she was awarded the Hal Gaba Scholarship for Excellence in Songwriting and was honored to study with hit songwriter Marty Panzer (Barry Manilow, Disney, Kenny Rogers).
Paris' work has been licensed for VIACOM/CBS, PARAMOUNT, CBS Sports, NETFLIX, MTV, VH1, BRAVO, The CW, HULU, Comedy Central, the HALLMARK CHANNEL, Apple Fitness, Peloton, NFL Football, and Dignity Health, and her work has been signed with multiple publishers, libraries and licensing agencies. Her music has been placed in feature films, commercials, and corporate campaigns. 
TV Shows that have featured her songs include The CW's "Batwoman" and "Riverdale", CBS/Paramount+ "So Help Me Todd", Comedy Central's "The Daily Show", BRAVO's  "Vanderpump Rules", MTV's "Cribs", NETFLIX's  "Selling Sunset", "Gentefied", "The Circle", and "Love Is Blind", CBS Sports NFL Football, MTV's  "Ex On The Beach",  VH1's  "Love and Hip Hop Hollywood",  MTV's "Teen Mom 2" & "Teen Mom: Young & Pregnant", HULU'S "Maggie", MTV's "Jersey Shore: Family Vacation", "Will Play For Food",  the Mexican TV series  "El Juego De Las Llaves",  VH1's  "Love and Hip Hop New York", and MTV's "Fresh Out Live". Paris' work has been licensed for feature films including "Muffin Top: A Love Story", "Plan V", "Matching Hearts", and "Paul's Promise", and the documentary "Joe 238". She also composes original music for advertising, and her work has been placed in multiple commercials for Dignity Health's "Hello Human Kindness" campaign, and has been licensed for Apple Fitness and Peloton.
As a collaborator, Nitanee has worked with several notable writers including Songwriters Hall of Fame inductee Steve Dorff ("Through The Years", "I Cross My Heart", "I Just Fall In Love Again"), Gary Nicholson (BB King, Ringo Starr, Garth Brooks, Bonnie Raitt, Stevie Nicks, George Strait, Fleetwood Mac, Willie Nelson, Vince Gill & many more); Big Al Anderson (NRBQ, Vince Gill, Trisha Yearwood, Tim McGraw, Bonnie Rait, Delbert McClinton, Jimmy Buffett, Jeffrey Steele, LeAnn Rimes & many more);  Grammy nominated multi-platinum artist Macy Gray,  singer Andre Merritt (Rihanna, Chris Brown); Marlin 'Hookman' Barnes (Jason Derulo, Chris Brown, Pitbul), Alan Roy Scott (Celine Dion, Luther Vandross, Cyndi Lauper, Gloria Estefan, Sheena Easton, Pat Benatar, Patti LaBelle, Johnny Mathis); Tim James, (Toby Keith's "My List"), Dave Merenda (Grammy Award-Winning songwriter "I Will Remember You"); Pam Sheyne ("Genie In A Bottle"); Charles Michael Brotman (Grammy Award-Winning producer/composer who reached #1 on the Billboard World Chart & #1 on the Billboard New Age Chart); Richard Harris (#1 Billboard single writer/producer), Mikal Blue (Jason Mraz, Five For Fighting, OneRepublic, Colbie Caillat), Chen Neeman (Miley Cyrus, Demi Lovato, Selena Gomez), Andrew Rollins (Emmy Award-Winning writer; CMT's Nashville), Adam Zelkind (Eight time ASCAP Award-Winning songwriter/composer/producer; Glen Phillips, Walt Aldridge, Gary Burr, Ashley Gorley, & Tim McGraw), Ron Harris (Christina Aguilera), Georgia Middleman (Blue Sky Riders, Kenny Loggins, Gary Burr), and Bruce Bouton (Garth Brooks, Reba McEntire). Nitanee also works with a diverse and extensive roster of talented artists and producers around the world, and with regular trips to Nashville, she collaborates with a solid slate of Music City song crafters as well as contestants on The Voice and Songland, and America's Got Talent.
Paris recently received 8 nominations in the 2020 Peace Song Awards, and is the winner of the County/Folk Category. In 2020 and 2019 she has received a total of 11 nominations and won 3 awards in multiple categories. Her winning song, "Keep The Light On", is about being there for others in times of darkness, and "Sanctuary" was inspired by the brave heroes fighting human trafficking. She is also the recipient of two Posi Awards (Positive Music Awards), one in 2019, and another in 2020 for "Take The Leap", a song about hope in the face of fear. Paris recently won the 2021 Grand Prize Award in the Electronic Category of the John Lennon Songwriting Contest for her song "Traveler", and earlier this year, she won the Grand Prize Award in the World Category for "Kokoro no Kakera", the Japanese version of "Scars (Kintsugi)".This is her 3rd Grand Prize win in the prestigious competition. She also one the Lennon Award in 2018 for her song "No Place Like Home". Paris has earned recognition from the International Acoustic Music Awards, the American Songwriter Magazine Lyric Contest, the Dallas Songwriters Association, the UK Songwriting Contest, the Songwriters Association of Washington, the Mid-Atlantic Songwriters Association, the Australian Songwriters Association, Women of Substance Radio, the NSAI Spring Training/Tin Pan South Songwriters Festival, and many other accolades. She earned six "Outstanding Achievement in Songwriting" awards from the Great American Song Contest, and she won Song of the Year from West Coast Songwriters for her song "Angels Like You", and multiple awards for her Americana song "Coal Dust".
Paris has had numerous artist cuts, and her song "Timebomb" was released by record labels Panda Funk and Interscope. Her song "Lift You Up" was released by Omar Lynx and Jackie Boy Records and her award-winning song "Big Big Life", was released by the band Streetlight Cadence, and the album reached #17 on the Billboard Heatseekers Chart and #2 on the Heatseekers Pacific Chart. Paris creates music for various film and TV projects; and her music is represented by multiple publishers, music licensing companies, and music libraries including Paramount (via Universal Music Publishing), Secret Road, Washington Street Publishing, Alcon Sleeping Giant, APM/Sonoton, Think Music, Pink Shark Music, Crucial Music, Black Toast Music, InStyle Music, Audiosocket, SoStereo, Epitome, Perpetual Music Group, Triple Scoop Music, Pure Sync, PEN Music, Hollywood Trax, 411 Music, WhatUpPitches, and Lyric House.
Nitanee Paris contributes her energies to an expansive musical community. As a networking mentor, her talents are in making introductions, fostering relationships, organizing events and promoting causes. A Malibu, California resident, Nitanee envisions and hosts workshops and a full slate of networking and charitable endeavors and songwriting events. She brings her varied talents to her company, ArtistMax, where she is Partner and Director of Artist & Repertoire. ArtistMax is a Los Angeles based artist development and education enterprise founded by Grammy Award-Winning producer Ken Caillat (Fleetwood Mac; Colbie Caillat).
Paris is on the Board of Directors of the Hawaii Songwriting Festival and the staff of the Durango Songwriters Expo. She is also on the SongArts committee for the Society of Composers and Lyricists (SCL), and the judging panel of the InterContinental Music Awards, and she is the founder of the Malibu Chapter of the Nashville Songwriters Association International (NSAI), where she oversees a busy calendar of monthly opportunities. Paris is a voting member of the Recording Academy, and a member of the Songwriters of North America (SONA), the Association of Independent Music Publishers (AIMP), Women in Music (WIM), Women in Film (WIF), the Songwriters Hall of Fame (SHOF), the Friends of the Guild of Music Supervisors (GMS), and the American Society of Composers, Authors and Publishers (ASCAP).
Paris hosts music and charity events, and she produces "Nitanee's Nashville Nights" in Los Angeles, a showcase for hit songwriters and local talent, and the ArtistMax showcase at the iconic Hotel Cafe in Hollywood for new artists from around the world. She also hosts songwriting retreats including a castle retreat in France, where she leads workshops and creativity expansion exercises. She creates charity benefit showcases for a number of causes, including human trafficking organizations Rock Against Trafficking and the Coalition to Abolish Slavery and Trafficking.  Paris created the Malibu Teen Songwriters group, to provide collaboration opportunities for young writers, and to help them to build confidence and nurture their creative talents.
Paris has been a panel speaker and mentor at the Hawaii Songwriting Festival on the Big Island of Hawai'i, and at Songwriting Camps in Palms Springs, CA hosted by Richard Harris & Pam Sheyne, the Society of Composers and Lyricists SongArts Committee, the Durango Songwriters Expo,  the Sync of Swim Music Conference, the Balanced Breakfast Music Summit, the WhatUp Pitches Sync Fiesta in Chicago, IL, and at the NAMM Show, in addition to being guest instructor at Mariposa School of Global Education, and at ArtistMax workshops at the Village Studios in West Los Angeles, and a celebrity judge at the Battle of the Bands in Agoura Hills, CA. Paris created the Malibu Teen Songwriters, where she provides collaboration opportunities and confidence building exercises for writers ages 13-18.
For Nitanee Paris, it is all about forward motion, assisting and encouraging others, and being a powerful and positive force in promoting her community. "Camaraderie and partnership" she says. "It is so important that we all help each other".